Improve Safety, Performance and Reliability
Download the Maintenance Checklist for a Better Baghouse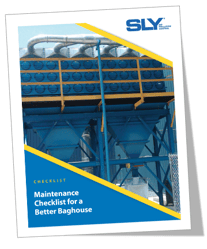 Now that you have the right dust collection system designed and installed, you want to make sure that it's running at its optimal efficiency.
For improved performance and reliability of your dust collection equipment, Sly recommends a schedule of routine inspections and the timely repair of damaged or malfunctioning equipment. That's why creating your own baghouse maintenance program will keep your system performance high and your health risks low. Learn how with our Maintenance Checklist for a Better Baghouse.

This convenient checklist covers all styles of dust collectors and aspects of baghouse maintenance including pressure drop, emissions, exhaust, ductwork and more. By tailoring a comprehensive program to your own dust collection system, you can help extend your baghouse performance and life. Our new and improved checklist includes the following:
An overview of procedures to use as a guide to create your maintenance program
A glossary of relevant terms that are helpful to understand for your dust collection system
Sample inspection logs and checklists
Data charts to help you track static pressure, inlet and friction
Download the Maintenance Checklist now and maintain a better baghouse.